Passport To Manhood Topics For Essays
Boys will be boys, especially in the Passport to Manhood program. Beginning in the fall of 2004, the Boys & Girls Club of the Missouri River Area in Wagner, SD introduced, BGCA's Passport to Manhood program that enacted several male-focused activities. This year marks the Club's 10-year anniversary of the Passport to Manhood program and the Boys & Girls Club of the Missouri River Area plans to celebrate by continuing to grow this attraction. Everything from kayaking to archery is explored by male Club members who are fortunate enough to be a part of this unique opportunity. They can even contribute to the sound of music in the drum group portion of the program.
Kayaking and archery are the most recent additions to the program. Jon Corey is the certified instructor for these activities and is also an employee of the South Dakota Game, Fish and Parks. Passport to Manhood Club members participatin kayaking and archery once a week, March through May. The drum group is also a distinctive component of the Passport to Manhood program. The drum group has performed at several events in the Missouri River area. Tribal functions, athletic events, VIP visits, a Day For Kids, and community gatherings are just a few of the typical places you might see this drum group perform!
Yet another aspect involved in this incredible program is the curriculum portion. Boys don't just learn how to use a bow and arrow, they also learn how to make educated decisions and understand what it means to be responsible. Instilling healthy eating habits and the importance of community service are just a few of the topics covered throughout the 14-sessions of the Passport to Manhood program.
The participating boys are 9 to 12 years old Club members and every year there are about 15 boys enrolled in the program. With the growing popularity in the newly added archery program, the Boys & Girls Club of the Missouri River Area expects those numbers to grow quickly. At the completion of the Passport to Manhood program, each participant receives a "passport" and those who have been repeat participants and dedicated contributors are also recognized. The Passport to Manhood program is a unique one indeed, and the perfect place for mentees and mentors to develop strong relationships, while having fun.
Photo: Archery instructor, Jon Corey, shows a few boys at the Club how to shoot a bow and arrow.
Photo credit: Club CPO, Patrick Breen
The My.Future initiative transforms the way young people use technology in Clubs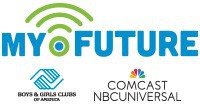 4
My.Future begins with "Essentials," staff-facilitated project experiences that provide members of all ability levels with foundational technology skills. When members have accumulated a defined number of project-based outcomes, as evidenced by their digital portfolio products and (at the advanced levels) an in-person presentation to their peers, they qualify for signed, certified, BGCA digital badges. These digital badges can be showcased online, shared with peers or added to a member's resume to indicate their technical competency. Finally, interest pathways are available through extensions including robotics, game design and even online journalism. Extensions allow instructional coaches and members to dive into specific interest areas, which may be technical or computational in nature. For example, if members really enjoy logic, then a next logical step would be to promote robotics programming, or even to engage and build interest in competing in the First Lego League competition. Or if members enjoy the logic of programming, they might like to explore introductions to coding through building a game, learning code through Khan Academy, or even using Code Academy to build experience in a formal programming language.